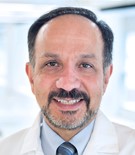 Dr. Hossein Borghaei
Position:  Chief of Thoracic Medical Oncology
Professor, Department of Oncology/Hematology
Co-Director, Immune Monitoring Facility
The Gloria and Edmund M. Dunn Chair in Thoracic Malignancies
Institution: Fox Chase Cancer Center
Location: Philadelphia, PA, USA
Biography:
Dr. Borghaei earned his degree at Philadelphia College of Osteopathic Medicine and completed a residency at Graduate Hospital in Philadelphia. Since completing his fellowship training at Fox Chase, he has been involved in a number of clinical trials aimed at developing new, antibody-based therapies and immunotherapies for patients with lung cancer.
In addition to his clinical practice and participation in immunotherapy-based clinical trials, Dr. Borghaei is the principal investigator (PI) of a laboratory that develops new monoclonal antibodies and novel immune-modulating drugs, with the aim of bringing these approaches to the clinic. He served as the PI of a phase III randomized study that proved the effectiveness of nivolumab in the treatment of patients with advanced non-squamous non-small cell lung cancer after progression on prior chemotherapy. This work led to the approval of nivolumab, one of the first immunotherapy-based drugs to be approved for lung cancer in this setting.
Dr. Borghaei is a member of the thoracic core committee at Eastern Cooperative Oncology Group (ECOG) and, until recently, was a member of the National Comprehensive Cancer Network (NCCN) Non-Small Cell Lung Cancer panel. He is the recipient of an American Society of Clinical Oncology (ASCO) Young Investigator Award and an ASCO Career Development Award. Dr. Borghaei is a long-standing member of ASCO, AACR, IASLC, SITC and ECOG thoracic committee.
Dr. Borghaei has been a recipient of the Robert Krigel Memorial Award for Teaching Excellence from Fox Chase Cancer Center, ASCO's Young Investigator Award and the Career Development Award from ASCO. His work has been published in The New England Journal of Medicine, Journal of Clinical Oncology, The Lancet Oncology, Leukemia Research, Journal of Thoracic Oncology, Clinical Cancer Research, Clinical Lung Cancer, and Journal of the National Comprehensive Cancer Network.
Sources: Fox Chase Website and PubMed
Recent Publications:
Nivolumab plus Ipilimumab in Advanced Non-Small-Cell Lung Cancer.
Hellmann MD, Paz-Ares L, Bernabe Caro R, Zurawski B, Kim SW, Carcereny Costa E, Park K, Alexandru A, Lupinacci L, de la Mora Jimenez E, Sakai H, Albert I, Vergnenegre A, Peters S, Syrigos K, Barlesi F, Reck M, Borghaei H, Brahmer JR, O'Byrne KJ, Geese WJ, Bhagavatheeswaran P, Rabindran SK, Kasinathan RS, Nathan FE, Ramalingam SS. N Engl J Med. 2019 Sep 28. doi: 10.1056/NEJMoa1910231. [Epub ahead of print]
Four-year survival with nivolumab in patients with previously treated advanced non-small-cell lung cancer: a pooled analysis.
Antonia SJ, Borghaei H, Ramalingam SS, Horn L, De Castro Carpeño J, Pluzanski A, Burgio MA, Garassino M, Chow LQM, Gettinger S, Crinò L, Planchard D, Butts C, Drilon A, Wojcik-Tomaszewska J, Otterson GA, Agrawal S, Li A, Penrod JR, Brahmer J. Lancet Oncol. 2019 Oct;20(10):1395-1408.
Pembrolizumab in combination with ipilimumab as second-line or later therapy for advanced non-small-cell lung cancer: KEYNOTE-021 cohorts D and H.
Gubens MA, Sequist LV, Stevenson JP, Powell SF, Villaruz LC, Gadgeel SM, Langer CJ, Patnaik A, Borghaei H, Jalal SI, Fiore J, Saraf S, Raftopoulos H, Gandhi L. Lung Cancer. 2019 Apr;130:59-66.
24-Month Overall Survival from KEYNOTE-021 Cohort G: Pemetrexed and Carboplatin with or without Pembrolizumab as First-Line Therapy for Advanced Nonsquamous Non-Small Cell Lung Cancer.
Borghaei H, Langer CJ, Gadgeel S, Papadimitrakopoulou VA, Patnaik A, Powell SF, Gentzler RD, Martins RG, Stevenson JP, Jalal SI, Panwalkar A, Yang JC, Gubens M, Sequist LV, Awad MM, Fiore J, Saraf S, Keller SM, Gandhi L. J Thorac Oncol. 2019 Jan;14(1):124-129.